Nordic Match Insights: China IPO vs M&A
Due to the increasing number of inbound M&A in China, we have encountered discussions with Chinese companies about their dilemma of IPO vs M&A, and we would like to give an overview about the key differences for executives to consider.
Both IPO and M&A are deals in nature, but there are significant differences between them. To help better understand the differences between IPO and M&A in China, Nordic Match will compare the two tracks in the following paragraphs.
Chinese stock market overview
There are four popular boards in the Chinese stock market: The Main Board, STAR, ChiNext and NEEQ. The Main Board, STAR and ChiNext have already established mature IPO systems whereas NEEQ is an OTC system and is relatively immature. The Main Board, STAR and ChiNext are more appealing for Chinese entrepreneurs due to the higher valuation multiples and better liquidity comparing to NEEQ.
The four boards are targeting different types of companies. Main Board is serving large mature companies; STAR is serving growing sci-tech companies, ChiNext is serving growing innovative companies and NEEQ is serving innovative, start-up, and high-growth micro, small and medium-sized companies.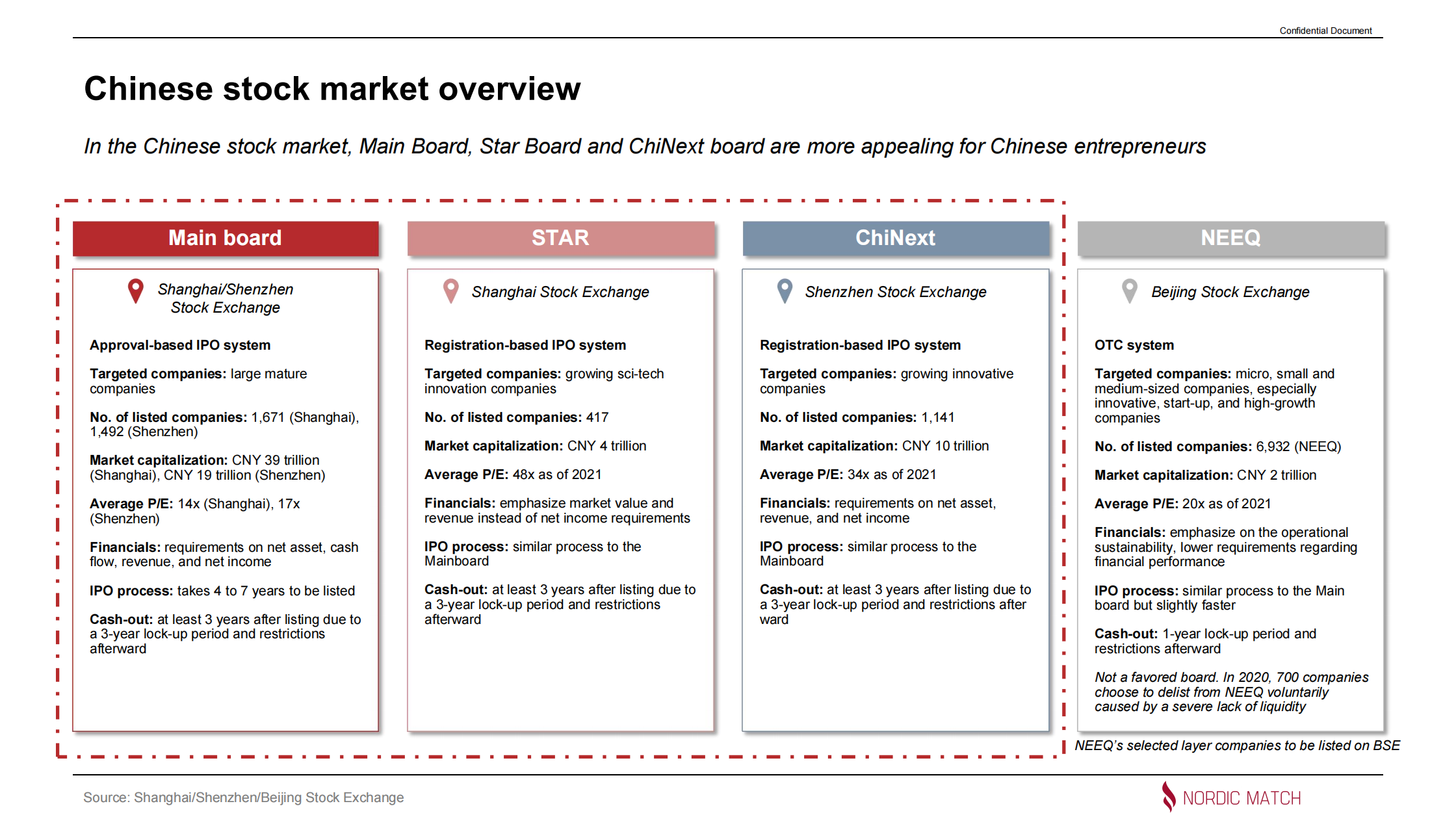 Illustrative process timetable of China IPO and M&A execution
In China, the process starting from preparing for IPO to completely cash out takes more than 8 years. The intermediate process includes Preparation/Restructure, Tutoring, Application & Review, Issuance & listing and Cash out. In Preparation/ Restructure stage, the company needs to prepare and restructure into a joint-stock limited liability company. In Tutoring stage, the company needs to engage a sponsor (security firm) to start tutoring. In Application & Review stage, application documents and a preliminary report are sent to the China Securities Regulatory Commission (CSRC) and IPO review committee. In Issuance & listing stage, when CSRC approves the application, the company will be able to be listed on a stock exchange. There are strict rules for major shareholders to cash out after the company is listed: with a three-year lock-up period and restrictions afterwards.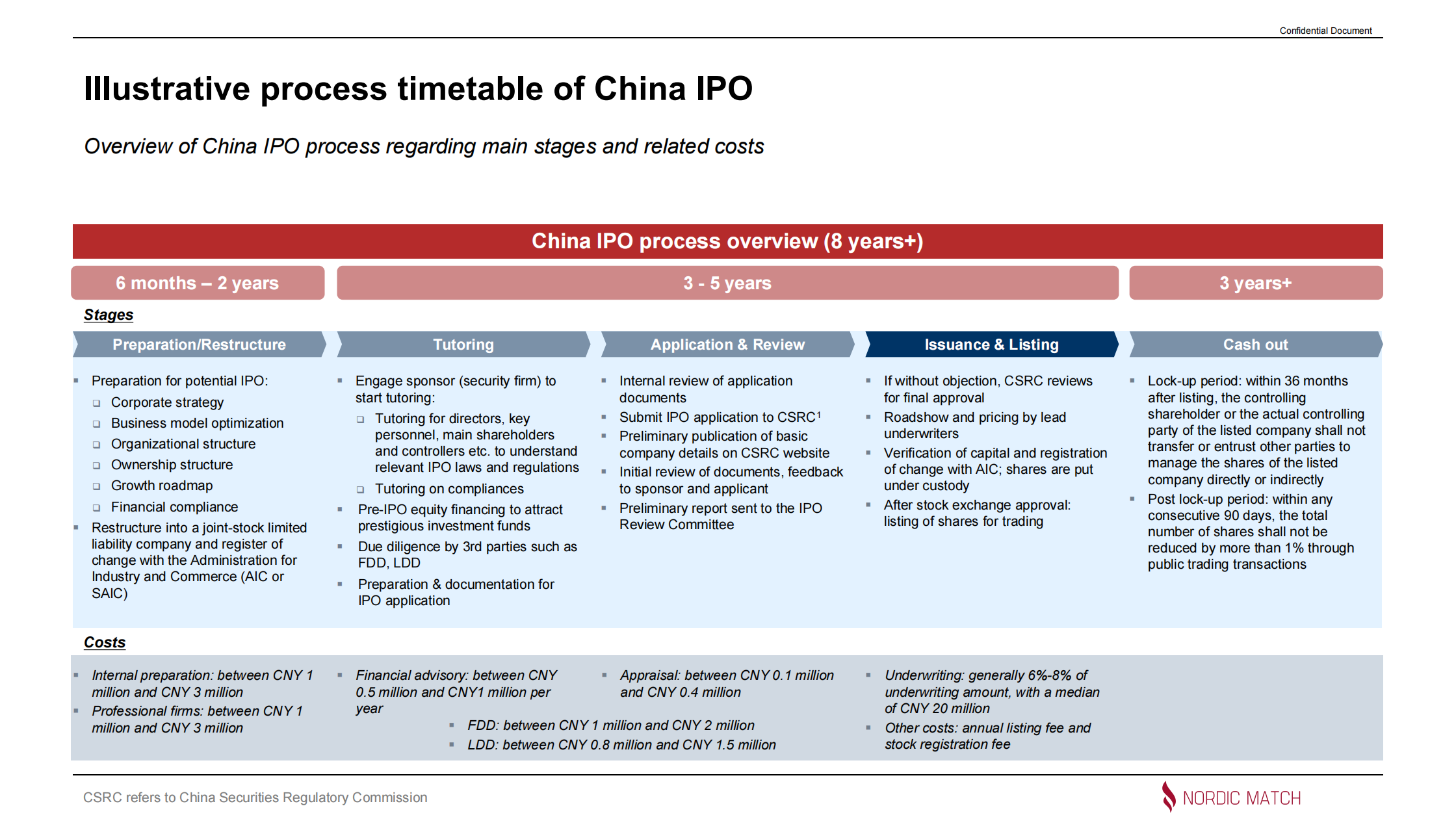 In contrast, below illustrative process timetable shows the general M&A execution overview. The main stages including data collection, TS negotiation, Due Diligence, SPA negotiation and closing, typically takes around 6 months.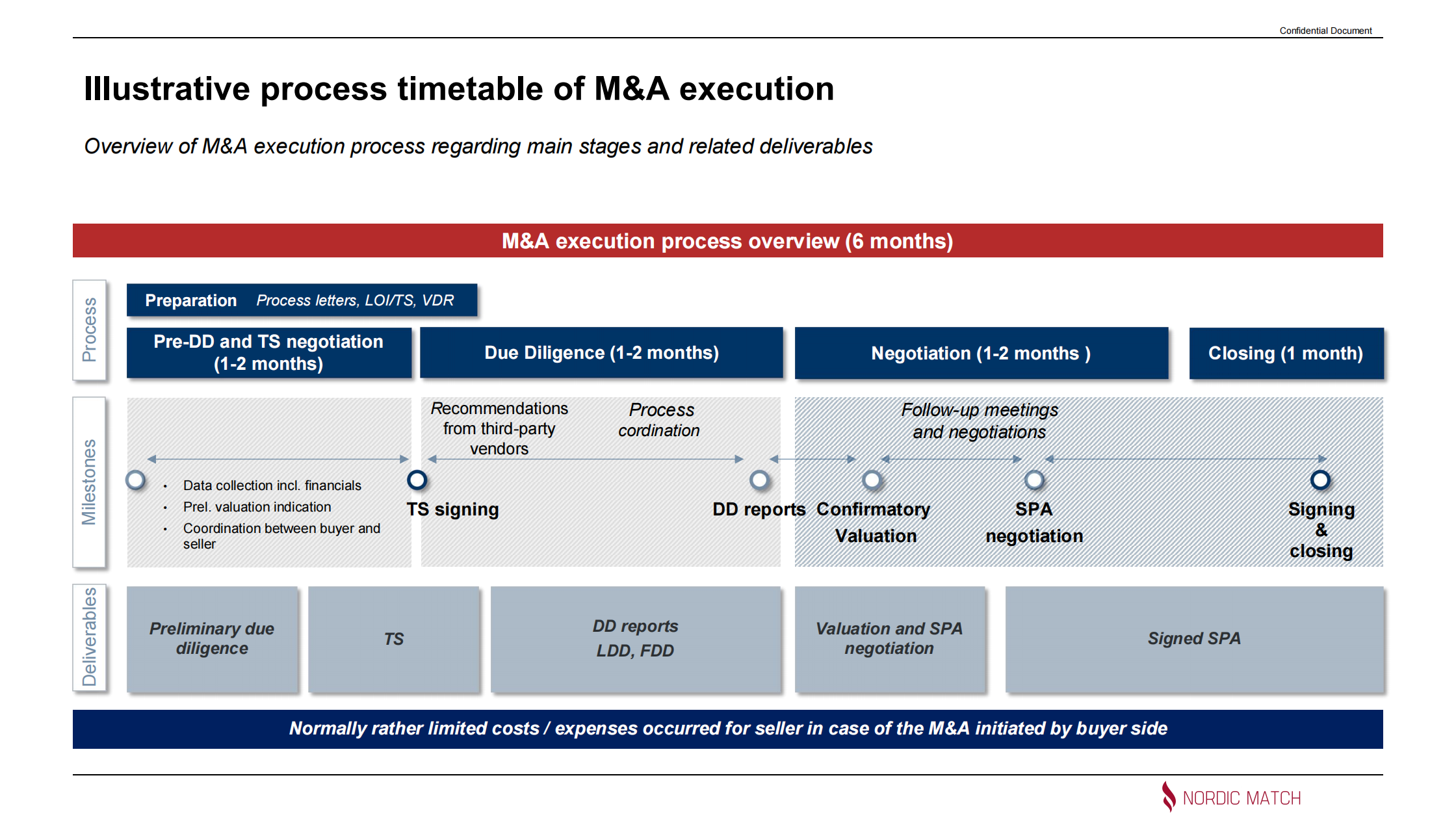 Comparison between China IPO and M&A
Compared with IPO, the M&A execution process is more straightforward and typically can be closed within 6 months. M&A is less time consuming and simpler to execute since the decision making is purely determined by the buyer and the seller, whereas an IPO needs to be approved by the China Securities Regulatory Commission (CSRC), which makes the process longer, complex and uncertain. In addition, it is more expensive for companies to conduct an IPO, whereas there will only be limited fees to the seller in a M&A transaction.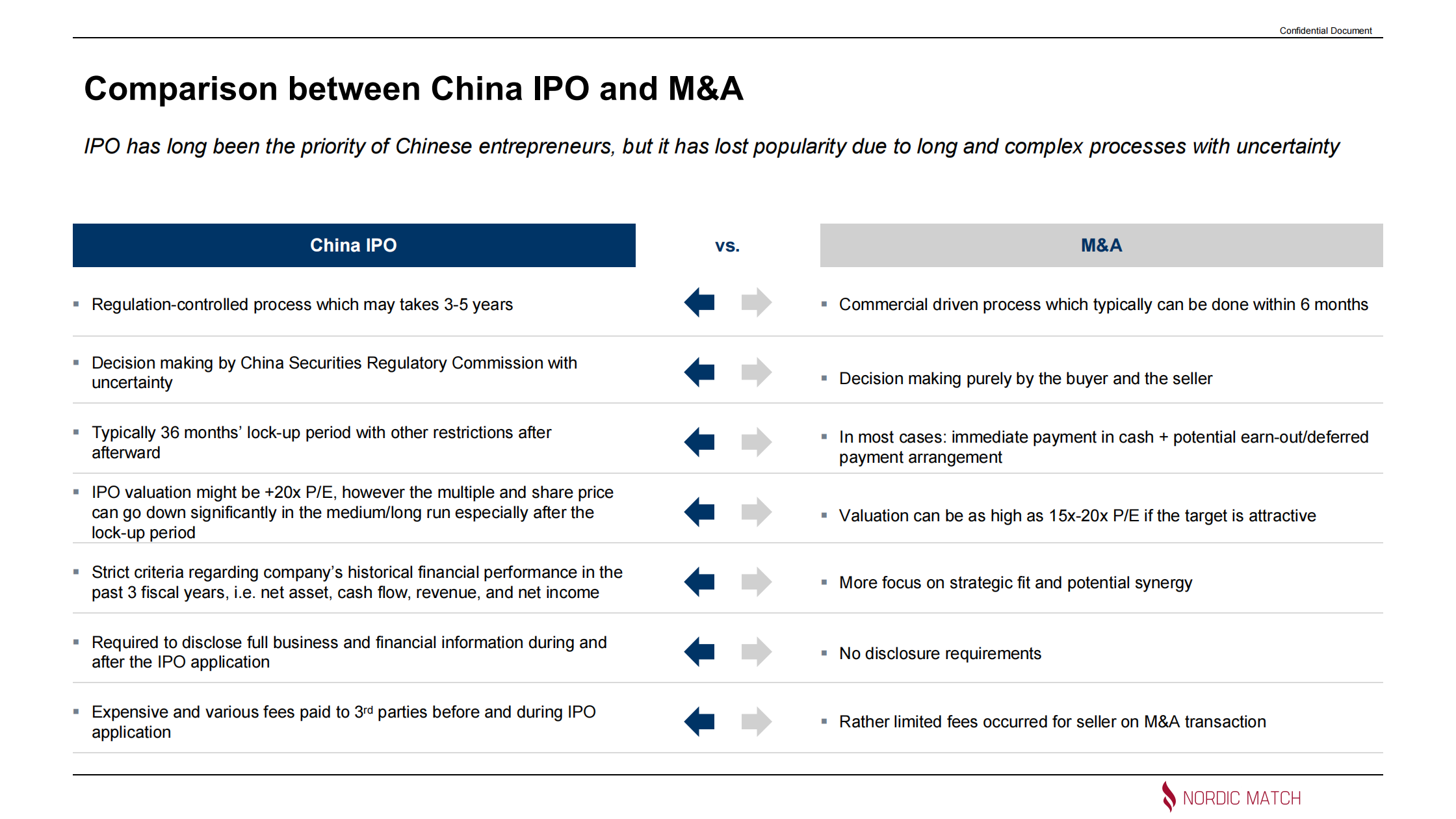 Comparison between Chinese buyers and MNC buyers
The general process of M&A with MNC buyers tends to be shorter and more straightforward. Chinese buyers are typically A-share listed companies aiming to increase net income and market capitalization through the acquisition, including a comparatively more complicated deal structure.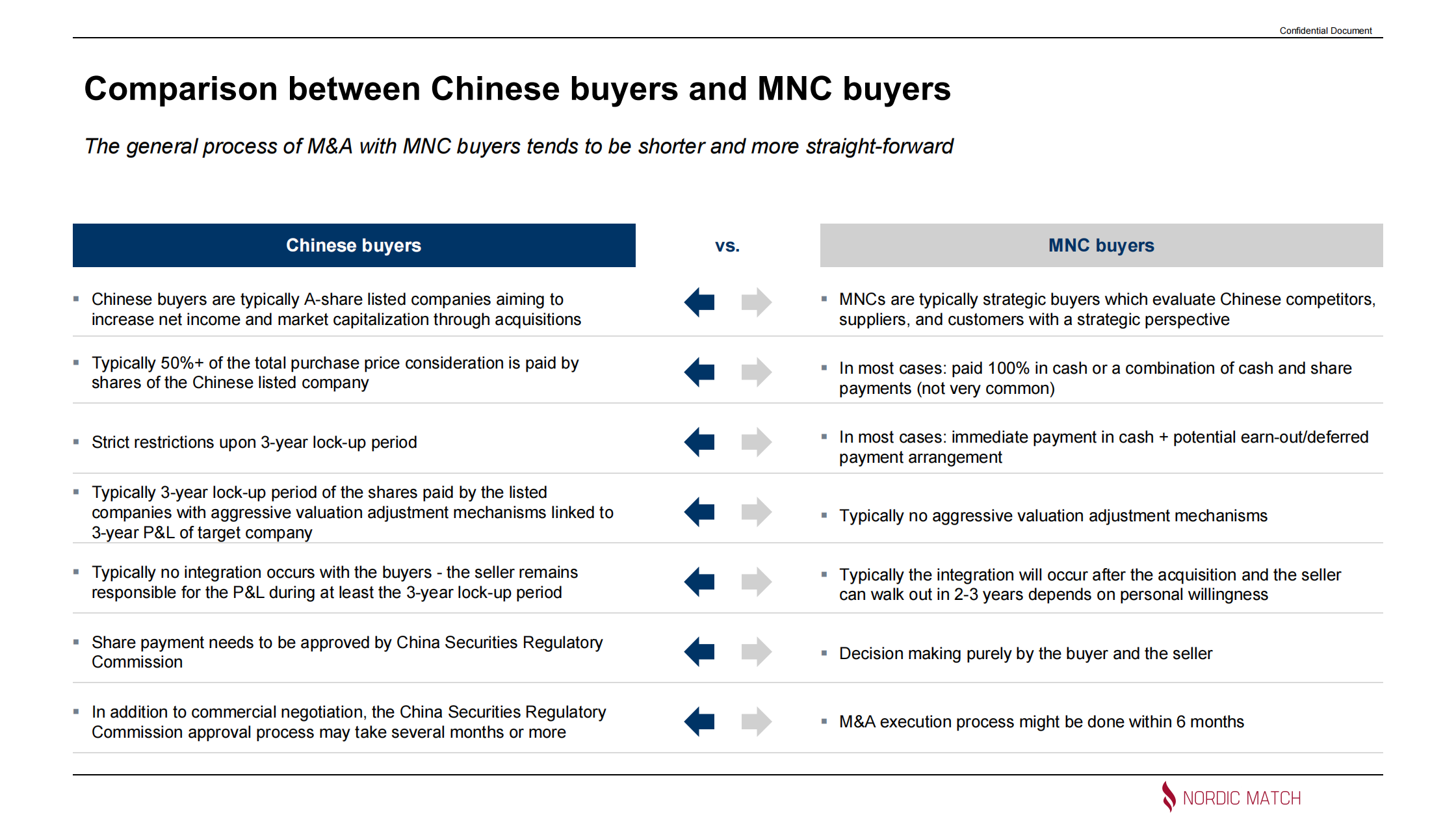 Valuation of listed companies in China
From Nordic Match's study of A-share listed companies, the valuation multiples and share price tend to drop gradually especially after the 3-year lock-up period:
1st year: the stock price tends to increase at the initial stage;
2nd year to 3rd year: the stock price is more likely to go down since investment funds might cash out by selling their shares;
After 3rd year: the stock price tends to decrease, since major shareholders opt to gradually sell their shares once the lock-up period ends.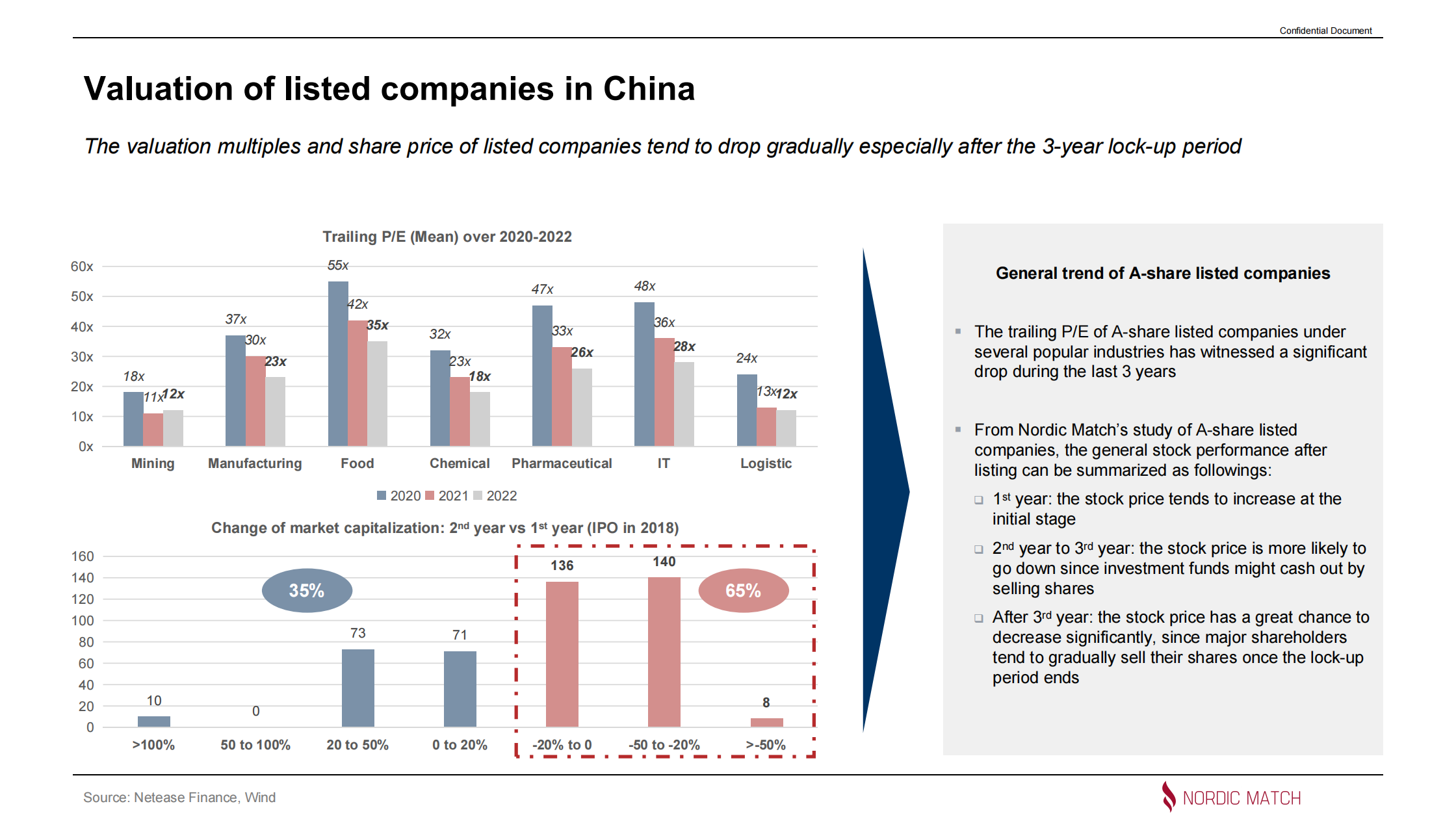 The financial market is full of uncertainties, and Nordic Match's forecast information is particularly important considering the uncertain global financial situation in the context of the current pandemic and China's special IPO and M&A regulations. As a cross-border M&A advisor, Nordic Match continues to monitor the market development, propose new M&A measures, provide professional guidance, and contribute to continuous financial innovation and development.


About Nordic Match
Nordic Match is a boutique M&A and Strategy Advisor headquartered in Shanghai, China. Dedicated to Sino-Nordic transactions, we have a clear vision – to support aspiring corporates and investors in search for value-creating opportunities between Nordics and China.
More about Nordic Match: www.nordic-match.com