Nordic Match Insights: Introduction to Life Science opportunities in China
Growing opportunities for Nordic life science companies in China
Despite past years' various headwinds, the life science sector in China has performed relatively well. The pandemic has highlighted the need to further upgrade China's healthcare infrastructure, and the shifting demographics, together with raising awareness of future needs, have accelerated efforts to make healthcare more accessible, driving investments in the sector.
Given the strong niche positions globally, Nordic companies are well positioned to capture China's next phase of healthcare development, where the sector is expected to grow faster compared to rest of the world, driven by the following growth drivers.
Shifting demographics, more affluent consumers with funds to meet growing medical needs
Healthcare reforms paving path towards broader healthcare access
The goal of China's overall health reform is to establish a universal basic health care system providing safe, effective, convenient and affordable health services. Health financing improvements are to ensure that financial resources are better allocated throughout different population groups, especially the most vulnerable and high-risk groups.
The government has launched major reforms to encounter rising healthcare costs, to improve the major imbalance between rural and urban health coverage, through reformed legislation and institutional reorganization.
China's government health expenditure has more than tripled since health reforms began in 2009. In 2020, the total expenditure on health care in China reached over CNY 7.2 trillion, representing around 7% of the GDP, still far below the OECD average of 12.5% and 16.7% in US.
Growth indicators in the life science industry
Pharma – China is the world's second largest pharmaceutical market after the US, expected to reach USD 468bn by 2029, more than doubling from USD 150bn in 2019, implying a CAGR of 12%. Acceleration of new drug access and approval processes, and expanding medical insurance access are expected to drive volume growth in the coming years.
Biotech – China's Biotech market is still at fairly early stages, estimated at USD 23bn in 2020, and expected to reach USD 35bn by 2025, implying a CAGR of 9%. Biotech is a key strategic growth area for China, likely to see growing allocation of R&D resources and tax incentives to drive growth and investments in the sector.
Medical devices – China's medical device market was estimated at around USD 93bn in 2020, and expected to reach USD 218bn in 2030, implying a CAGR of 9%. The medical device market is expected to grow further with faster approval processes and following expected growth in government annual health expenditure.
Unlocking market potential with a strategic partner – sources of strategic benefits
While China offers major growth opportunities, go-to market (early stage companies) and expansion (mature companies) can be challenging due to various roadblocks and the unique operating environment. China has it's own playbook, and engaging a local partner can bring strategic benefits and speed up the commercialization process. Through speed to market, revenue and cost synergies, there is a wide spectrum of benefits to tap into with a strategic partner.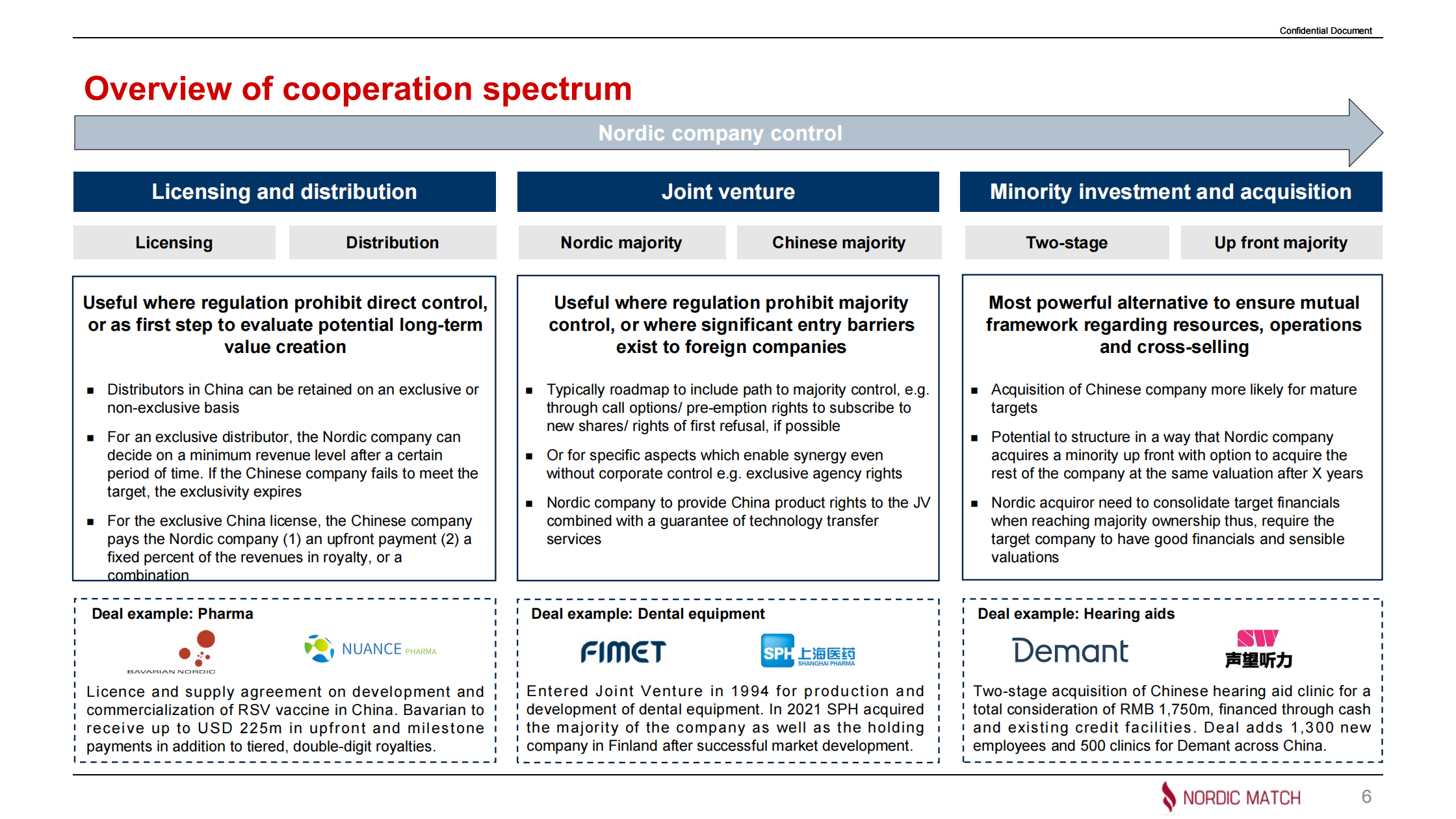 About Nordic Match
Nordic Match is a boutique M&A and Strategy Advisor headquartered in Shanghai, China. Dedicated to Sino-Nordic transactions, we have a clear vision – to support aspiring corporates and investors in search for value-creating opportunities between Nordics and China.
More about Nordic Match: www.nordic-match.com